U.S. trade chief: Ethiopia's duty-free market status to be decided 'soon'
የፕሬዝዳንት ጆ ባይደን አስተዳደር ኢትዮጵያ በአሜሪካው የቀረጥ ነጻ ንግድ (አጎዋ) ባላት ተጠቃሚነት ላይ በቅርቡ ውሳኔ እንደሚሰጥ የአሜሪካ የንግድ ሃላፊ ካትሪን ታይ መናገራቸውን ሮይተርስ ዘግቧል።
አሜሪካ ኢትዮጵያን ከቀረጥ ነጻ ንግዱ ልታግድ እንደምትችል የዛተችው፣ መንግሥት የትግራዩን ሰብዓዊ ቀውስ አልፈታም በማለት ነው። የጠቅላይ ሚንስትር ጽሕፈት ቤት ፕሬስ ሴክሬታሪያት ባልደረባ ቢልለኔ ሥዩም ግን አነስተኛ ገቢ ያላቸውን ሴቶች የሥራ ዕድል በማሳጣት፣ ሰብዓዊ ቀውስን ማስቆም አይቻልም ሲሉ ለዜና ወኪሉ ተናግረዋል።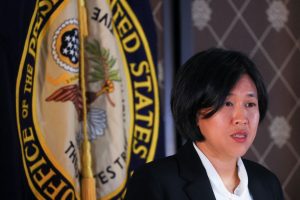 Katherine Tai, U.S. global trade representative, said Washington would "soon" decide on Ethiopia's status under the African Growth and Opportunity Act (AGOA), an agreement which gives it duty-free access to the United States.
"Reports coming back to us through official channels and civil society are not encouraging. What is happening in Ethiopia is a humanitarian crisis," said Tai, referring to fighting in northern Ethiopia and deepening famine in the region of Tigray.
Ethiopia exported about $237 million worth of goods duty-free to the United States under AGOA in 2020, according to U.S. commerce department data.
In August, her office issued a statement saying "ongoing violations of internationally recognised human rights amid the ongoing conflict and humanitarian crisis in northern Ethiopia … could affect Ethiopia's future African Growth and Opportunity Act (AGOA) eligibility if unaddressed." read more
Any suspension would deal a major blow to Ethiopia's economy, which is already under immense pressure from the coronavirus pandemic, the 11-month-old conflict and inflation of nearly 35%.
Reead More : https://www.reuters.com/world/africa/us-trade-chief-ethiopias-duty-free-market-status-be-decided-soon-2021-10-14/