---
የ
መረጃ ቲቪ
አባል በመሆን የሳተላይት ቲቪውን ቀጥታ ስርጭት፣ ወቅታዊ ዜናዎችን እና ትንተናዎችን፣ የመዝናኛ ፕሮግራሞችን፣ ስፖርት እና ሌሎችንም ዝግጅቶቻችንን በፍጥነት እና ጥራት ስልክዎ፣ ኮምፒዩተርዎ ወይም ቲቪዎ ላይ ማየት ይችላሉ።
እዚህ ሊንክ ላይ በመጫን አባል ይሁኑ
።
---
ቢል ጌትስ እና ሜሊንዳ ጌትስ ከ27 ዓመታት ትዳር ሕይወት በኋላ መፋታታቸውን ይፋ አድርገዋል። ሦስት ልጆችን ወልደው ነበር። አብረን እንሰራለን ተያይዘንም ዓለምን እንረዳለን ተፋተናል።

Bill and Melinda Gates are ending their marriage after 27 years, the pair announced in a statement on their verified Twitter accounts.
"After a great deal of thought and a lot of work on our relationship, we have made the decision to end our marriage," the statement reads.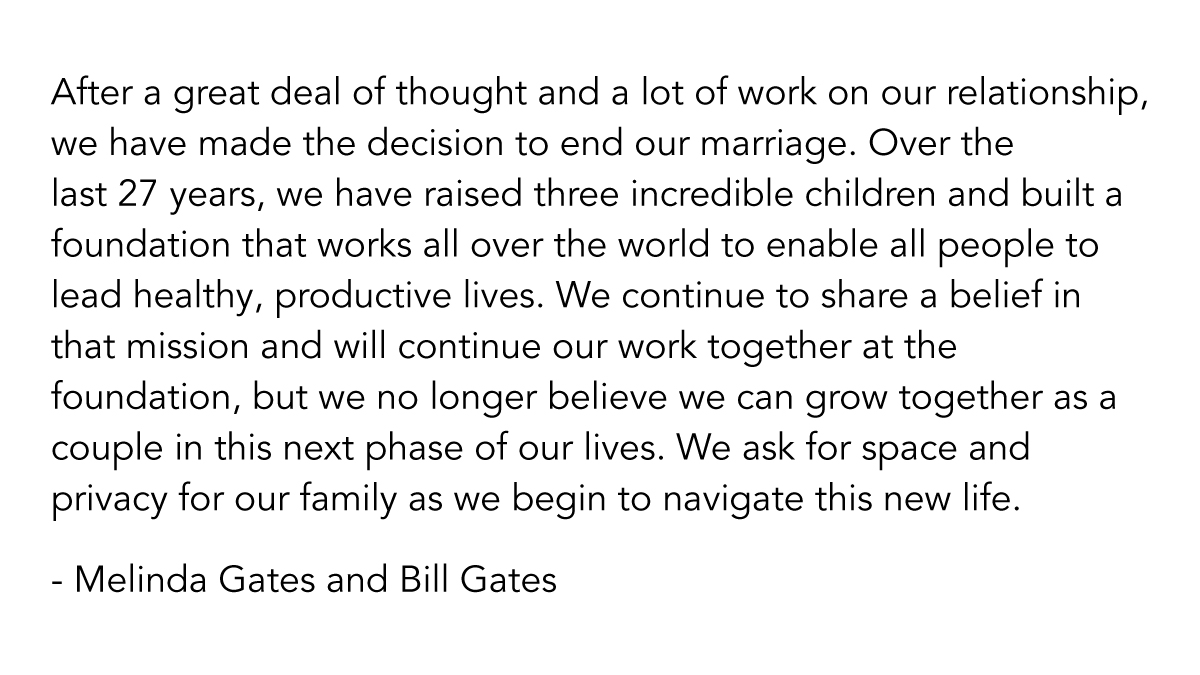 Mr Gates, the co-founder of Microsoft who made his fortune developing software for the personal computer, stepped down from his day-to-day role running the tech company in 2008.
The couple first met in the 1980s when Melinda joined the Microsoft firm.