Take a peek Inside Somalia's Ocean Wealth.
Northeastern Somali Sea.
The Somali marine ecosystem is rich in a diversity of living resources. Dynamic oceanographic features attract billions of migratory tunas, billfishes, sharks, whale sharks and sea turtles, Warm tropical Somali waters nurture coral reef systems that are home to thousands of species of marine life, and highly productive open waters support schooling pelagic creatures such as sardines and squid.
Northwestern Somali Sea - Djibouti Beach.
Somalia has by far the richest and the longest coastline of any country in Africa at roughly 3,333 kilometers and its exclusive economic zone (EEZ) extends across 1.477.500 million square kilometers and possesses a strategic significance due to its linkage to international trade.
Southern Somali Sea.
The Somali maritime space, which wraps around the Horn of Africa from the Gulf of Berbera/Aden to the Western Indian Ocean, is immense. The coastline stretches from Djibouti to Kenya and the maritime territory claimed in the corresponding exclusive economic zone covers 1,477,500 million square kilometers, including the limit of its outer continental shelf beyond 200M, To put it in perspective, this maritime space is larger than the maritime spaces claimed by Nigeria, Ghana, Senegal, Cameroon, Egypt, Tanzania and Kenya combined. Nowhere else in the world does such a poor and politically fractured government take responsibility for such a vast maritime area.
In the north, Somali waters encompass approximately half the Gulf of Berbera/Aden, stretching some 1,200 km from the western border with Djibouti across northern Somalia toward the island of Socotra. This highly trafficked region is transited by nearly all of the global commerce between the Indian Ocean and the Mediterranean Sea. Shipping traffic is heavily concentrated in the west as ships approach the Bab-el-Mandeb strait, but disperses closer to the Arabian Sea in the east. The geopolitical importance of this maritime region is evinced by the presence of French, American, Japanese, and Chinese bases and German, Italian, and Spanish logistic support facilities in nearby Djibouti. Most shipping traffic passes through this Somalia region.
Central Somali Sea.
The southern portion of the Somali maritime space extends for more than 2,133 km along the northeastern coast of the African continent. This stretch spans the waters off Puntland south toward Jubaland before ending near the border with Kenya. It includes the vital port cities of Mogadishu and Kismayo, but also hundreds of miles of remote, sparsely populated coastline. International shipping traffic is less concentrated there than it is in the Gulf of Berbera/Aden, but enough ships transit the area to support activities like Eastern and Southern Africa countries traders and fishing vessels.
Somali Basin
Sandy beaches form a large part of the coastal environment of Somalia and are particularly important to six of the seven species of sea turtles populations, The coast of Somalia is one of the most important turtle nesting grounds on a global scale.
Southern Somali Sea.
Opportunities
Somali waters which are home to more than half of all marine species of the entire Indian ocean, have the potential to be as lucrative as they are vast. Somali maritime claims contain rich fisheries that attract fishing fleets from all over the world, Unfortunately, Somalia is unable to police and monitor its vast Exclusive Economic Zone (EEZ) effectively, The losses due to Illegal, unreported, and unregulated (IUU) fishing are estimated to be between US$1.5 billion and US$2 billion per year.
Somali ocean feeds and employs hundreds of millions of people worldwide, Europeans, Asian and Arabs etc.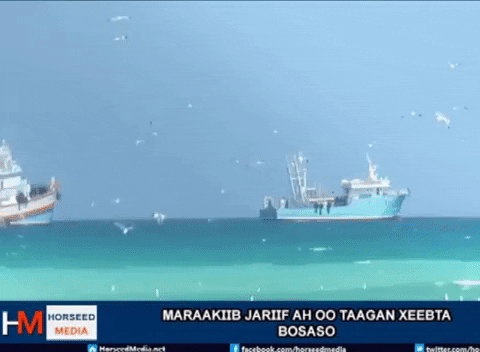 Northern Somali Sea - Middle Eastern Fishing Boats.
Somali Ocean is a mecca for European, Asian and Middle Easterner fishermen.
From space, there is only one stretch of Indian Ocean that lights up at night, the lights beam from thousands of foreigner fishing vessels fishing illegally in Somali waters, Since the West and Asian countries have emptied their own waters, their problem are being exported to Somalia.
Sharks, Tuna, Lobster, Squid, Swordfish, Mackerel, Marlin fish, Sardines, Yellowfin, Longtail, Skipjack, Bigeye tuna, Hammerhead and thousands of other marine species swim in large quantities in Somali Exclusive Economic Zone, Somalia is a country known for its high abundance of large pelagic fish and its diverse tuna samples including the yellowfin, longtail.
Industrial fishing boats are required to carry an automatic identification system (AIS), which broadcasts information about a ship's location, size, and nationality, The screenshot image below - taken from the website Global Fishing Watch in 2021 - show thousands of fishing vessels clearly fishing in the Somali Exclusive Economic Zone.
Somalia is a fishing mecca. (I took this screenshot in 2021)
Note: I will often update this thread so please don't spoil it.