Ethiopia's rebel TPLF launches attack in Afar region
January 24, 2022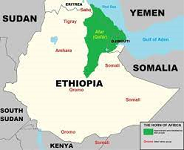 The Tigray Peoples Liberation Front (TPLF), which is designated as a terrorist group by the Ethiopian parliament, has launched a new military attack in Afar region of Ethiopia.
This sis indicated by the Afar Regional Government Communications Office, which issued a statement today. TPLF has started attacking Kilbeti Resu zone, Abala, Berhale, and Megale weredas (districts) in Afar region, according to the statement. The statement indicated that after crossing into Afar region from Tigray the terrorist group ruthlessly has been firing heavy weapons on civilians living in the three districts.
The statement of Afar Region indicated that even though TPLF has invaded 21 districts in Afar region in four zones and killed many civilians, displaced millions of civilians, and destroyed billions of Birr private and public properties, for the sake of humanity and brotherhood the Afar Regional Government has allowed the delivery of humanitarian assistances such as food aid to the people of Tigray its via Abala district.
Meanwhile by starting war in this corridor (Abala), the terrorist group has demonstrated its ruthlessness act blocking assistance to the people of Tigray, which TPLF claims to represent, according to the statement.
"The people of Tigray need to say enough to the madness of the terrorist TPLF," the statement said, urging the people of Tigray not to be misled by the TPLF, which is snatching the children of Tigray from their mothers for the war that aims to benefit members of the terrorist group.
https://newbusinessethiopia.com/tragedy ... far-region
Djibouti is not Eritrea, It is best to leave Djibouti alone.