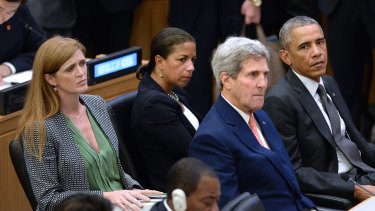 Everyone should read the review of Power's memoir, from

The Intercept

.
A Memoir From Hell by Samantha Power....
https://theintercept.com/2019/09/11/a-m ... er-career/
---
Kenyan port workers load relief food to a Somalia-bound ship at the Kenyan port of Mombasa, October 2011. | Photo: Reuters
Opinion
USAID or US-CIA?
Thomas C. Mountain
https://www.telesurenglish.net/
Who knows who is an agent and who is a real aid worker when it comes to USAID.
The U.S. Agency for International Development (USAID) was created by Pax Americana to provide a cover for CIA agents, under the pretext of helping the 3rd World. U.S. Imperialism has to do some good or its potential targets would not open their doors to intelligence agents posing as do-gooders, so USAID was created.
Today, the USAID is headed by
Gàyle Smith
, formerly the "Special Advisor" to President
Barack Obama
and Senior Director of the National Security Council. To put it simply, Gàyle Smith is one of the top "
spooks
" in the United States, someone who told the CIA what to do.
Today, this former "
spook
" is running a multi-billion dollar "
aid agency
" with thousands of employees or "
contractors
" operating world wide. Who knows who is an agent and who is a real aid worker, when it comes to USAID.
Earlier this year Ms. Smith sent 25 senior CIA investigators to Ethiopia to see first hand what was going on with the nationwide uprising under cover of "
investigating the drought
." Their report, yet to be made public, must have been pretty dire for not too long later,
Freedom House
, that excreable voice of the CIA, published a report insinuating that replacements for the present Ethiopian regime could be in the works.
USAID is up to its ears in the effort for "
regime change
" in South Sudan with dozens of CIA ops operating inside the country. Look at Latin America and the USAID's dirty war against Cuba for decades now with USAID involved in recent "
coups
" and "
quiet coups
" in Central and South America.
When you deal with the USAID you are dealing with the US-CIA and never forget it. Better yet, kick them out of your country like our government did here in Eritrea more than a decade ago.
Thomas C. Mountain is an independent journalist in Eritrea living and reporting from here since 2006. His speeches, interviews and articles can be seen on Facebook at thomascmountain and he can best be reached at

[email protected]
---
Last edited by
Temt
on 13 Jan 2021, 17:59, edited 1 time in total.
---
Yes brother Zmeselo, that was a wise decision by our government! We are aware of what unjustified punitive measures have been taken against us by the US and its western allies, but it is obvious that wouldn't flinch us from our principled stand come rain or shine.

ኣርሴማ ጸገዘኣብ Arsiema 2016 Eritrean Independence Music

&"ይብለኪ'ሎ ህዝቢ ዓደይ ይብለኪ'ሎ
ልዕሊ ዝኸበደ፡ ካልእ ጾር 'ውን እንተሎ
ይብለኪሎ ኤረይ፡ ዓደይ ይብለኪሎ
ላዓት ጽንዓት ኣብ ኢድና እንከሎ
ሕሰም እንተመጸ ከምቲ ኣመሉ
ክንሰግሮ'ና ኣጆኺ ክንስዕሮ ንኹሉ"&
---
Issayas figured that out and more power to him. Really admirable. UNHCR is an evil organization that has its own political agenda than it's fake flagship humanitarian assistance program. They are now deeply depressed by the sudden death of the TPLF Junta. They can't even hide it
---