Senior Member+
Posts: 37052
Joined: 30 May 2010, 23:04
Last edited by
Halafi Mengedi
on 22 Dec 2020, 12:43, edited 1 time in total.
---
No pure Eritrean trusts this guy named amanuel assena aka terrorist-tigray-tplf slave and spy, he acts like Eritrean but he is not , he is exposed daily, this rat agame. Check out he exposes himself live.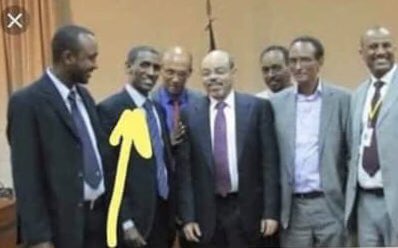 . Nay agame neger, zegerm eyu.
---
Halafi Mitri,

I really doubt what you posted being true. But even if it happen, don't you think it is an eye for an eye thing? You agames looted Eritrean cities in the 1998-2000 war. plus you deported over 70 thousand well to do Eritreans of Ethiopian citizens robbing their life long earnings, house, cars, businessess ...etc. That was not enough, you sent over 250,000 tegarus as refugees pretending to be Eritreans while keeping the real eritreans in shimbela compounds. Add the sanction you brought on them and the unessesary war you orchestrated on them, i think they are kind to not have punished you severely because i sincerely believe you need a heavy punishment
---
Member+
Posts: 8174
Joined: 05 Jun 2013, 13:00
Poor propaganda material ! You forgot how you made Eritreans and Ethiopians kill each other under the false pretext that Eritrea invaded Ethiopia. Then you didn't stop there. You persuaded your white masters to impose sanction on Eritrea to maximize the pain on the Eritrean people. Patheic, simply pathetic. Do you know for how long your no-peace-no-war crimes lasted ? We will make you suffer for a very long time. yewega biresa yetewega ayressam.There is nothing to steal in Tigray.
---
Leflafi adghi, let's say that we stole mud made dishes and wood made untencis from your dirty poor tigray residence who live at the border, even though no Eritrean set their clean feet in your dirty poor tigray.
Now would you compare that with the over 2 billion dollars of Eritrean who used to live in Ethiopia properties which you stole? That is not even mentioning the separation and hardship you filthy hasadat agames caused us plus the Barentu theft too?
Theft is not Eritreans trait, you dumb as*s.
What is killing you is that you know (understand and feel sorry and ashamed) to what you did to the innocent Eritreans during the last 2 decades plus and rather than apologizing for your sins you are resorting to qualify your theft by accusing us of your stupid crap.
Man any Eritrean let alone to steal from you dirty agames, they won't even pick your property if the found them and knew it was touched by you filthy agames.
You have no pride at all.
You are a tribe who get happy if any dumb a'ss Eritrean gives you support or praise or became your friend.
Look how many times your brother degnet (fake priest) said in this form that his best friends are Eritreans?
You are rats who deep inside you admire Eritreans, but due to your inferiority complex syndrome, you try hard to equal us, which is mission impossible.
You rats love to steal not only our identities, songs, properties, pictures, social media handles, but even the sins you committed on our innocent people which we previousely claimed you did and proved and made fun of you with songs and comedy shows.
I bet you watched the agames comedy show, based on true story, which was played by Eritrean comedians about your theft in Barentu called METERKESHA (in agamigna) aka LIPSTICKS.
And for over two decades that show irritated you and this stupid accusation is what you came up to try to equal the value of theft which you accused us of.
---
Halafi Adgi
We don't give a foot what you cursed clan think of us for the next 10000 years; no love lost. We broke your back and you will never ever be a threat to us.
Back to backwardness and hunger.;
---
Leflafi tukrir
We're not scared of a dead virtual kilil Tigray, 1/3 of woyane Tigray is under Amhara and if you continue the way you behaving we'll make sure the whole Tigray gets swallowed up under Amhara state and no more Tigray as you know it. 100,000 Amhara army stationed in Tigray right now and you are screaming at your neighbors who has nothing to do with your misery... this is a recipe for never to recover from the humiliation of your tplf (2 weeks was all it took) after all the talk, and bragging... if I was in your shoe, I would be thinking on how to make friends with Eritrea, and struggle to liberate your Tigray. But you creating more animosity with Eritrea is for sure recipe for Tigray to be annexed by Amhara period. Think a little farther than your nose
Eritrea survived a fully armed Ethiopian army under tplf yesteryears and you think it would be scared of you threats with the dead tplf army... this gotta to be a joke
Your tplf lasted 24 hrs before they lost humera to amhara militia
---
---