(

Embassy Media

)
: The Embassy of Eritrea in Washington, DC hosted a dinner reception for GMU faculty, staff and students of
Eyewitness Eritrea
at the newly inaugurated Eritrean Cultural and Civic Center.
Eyewitness Eritrea, is a project under the School for Conflict Analysis and Resolution (S-CAR) and Center for the Study of Narrative and Conflict Resolution at George Mason University. Participants of the program, shared testimonies from their trip to Eritrea.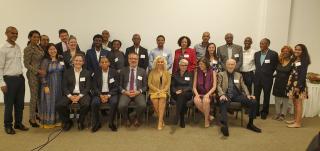 They stressed Eritrea's values and experiences, can serve as an example to Africa and the world. They promised to work in partnership, to explore Eritrea's story and sharing it with the world. Speaking at the event Mr.
Berhane G Solomon
, Chargé d'affaires reaffirmed the Embassy of Eritrea's commitment to the success of the program.
You can learn more about Eyewitness Eritrea:
.......
http://eyewitnesseritrea.gmu.edu