Senior Member+
Posts: 22128
Joined: 06 Jan 2007, 15:44
Dear yabello, hope you're sitting down as you read this!
---
Senior Member+
Posts: 22128
Joined: 06 Jan 2007, 15:44
ወደድንም ጠላንም እኔና አንተ ተመልሰን ታሪክን በጭንቅላታችን ቆመን መመርመር አለብን::
---
Rev

: ወደድንም ጠላንም እኔና አንተ ተመልሰን ታሪክን በጭንቅላታችን ቆመን መመርመር አለብን::
Rev
,
I agree. WOW - that Kenyan is a troubled young man but it would be interesting to learn why he has become so infatuated with Gondar!

Here is the latest on him reported at the BBC ...

"ጎንደር በመሄድ የማገልገል ጥልቅ ፍላጎት አለኝ የሚለው ኬንያዊ ቢላ ይዞ ወደ ፕሬዚዳንቱ ቤተ መንግሥት ጥሶ ለመግባት ሲሞከር በጠባቂዎቹ ተተኩሶበት ቆስሎ ተይዟል።

በፌስቡክ ገጹ ላይ በኬንያ መሪዎች ስር ከመተዳደር ጎንደር ውስጥ የቤት ውስጥ አገልጋይ ሆኖ መኖርን እንደሚመርጥ የሚናገረው ብሪያን ኪቤት ቤራ ሰኞ እለት ነበር ቤተ መንግሥቱ ውስጥ ለመግባት የሞከረው።

በጆሞ ኬንያታ የግብርናና የቴክኖሎጂ ዩኒቨርስቲ ውስጥ የአምስተኛ ዓመት የሜካኒካል ኢንጂነሪንግ ተማሪ የሆነው ብራያን፤ ቤተ መንግሥት ሊገባ ሲል ግራ ትከሻው ላይ በጥይት ከቆሰለ በኋላ ሆስፒታል ገብቷል። ..."
LINK:
https://www.bbc.com/amharic/news-486074 ... 5Wc9h6HlBs
---
Rev;

One other thing ... considering that the good ol Kenya is up there with Nigeria in its levels of corruption, this young man's frustration & deep hate for Kikuyus/Kenyan politicians is understandable.

Kenya is just managing a bit better than Nigeria & other African countries mainly because its economy is dominated/run by Kenyan-Indians & British expatriates who are descendants of former colonialists. If you needed a good example to illustrate how we blacks are hopeless failures; Kenya, Nigeria, Zimbabwe, etc, would provide very good case studies on this 'negro malaise'. ..

Hence, the need for us to begin to think 'outside the box' for solutions before other races knock us out once & for all. .. Oh, dear .. it is so embarrassing to be black or African!
photo

: a Kenyan woman being carried to safety during the Somali Al-Shabab bombings at a supermarket in Nairobi, Kenya .. Of course, the supermarket was owned by? .. by expatriates!
---
Senior Member+
Posts: 22128
Joined: 06 Jan 2007, 15:44
---
This guy must be Messai brother.
I wish him swift recovery and stable mind. He made irrational and wrong decision. Kingdom of Buganda is closer than Goner for him, but he made a wrong choice.
---
ወንድም ረቭ;

ወይ ጉድ! እፁብ ድንቅ ታሪክ ነው። ጎንደሬውን ፈረንጅ እየሰማሁት ጆሮዬን ማመን አቃተኝ። ዋው! ከሁሉ ይሳቀኝ ለሱ የእንጀራ ድርቆሽ ኖርዌ ድረስ መላኩ ነው! ደግሞ የፉርኖ-ዱቄት/የስንዴ እንጀራ አልወድም ይላል - which is a very habesha/Ethiopian trait ...


Thanks a lot for sharing this lovely story which provides us with a break from Ethiopia's & Africa's mostly doom & gloom stories. Actually, brother

Horus

deserves a warm thank you too for sharing the same story plus another equally positive clip on an Ethiopia refugee farming goats & making goat cheese in the Italian Alps a little while ago. I shared that clip on the 'goat woman' with BBC Amharic+Oromo & they are thinking of making a story on her too.

Speaking of 'ye injera dirqosh', I remembered my travel to Marsabit (Kenya) & Nairobi some years ago to take a family member to a hospital. Due to woyane-sown deep suspicion & antipathy between Ethiopia's various tribes, most Ethiopian refugees in Nairobi tended to socialise with members of their own tribe, except on weekends when many had to visit the few 'injera & wot' meals serving houses run by other refugees! ..

Most Ethiopian refugees gotten used to life in Kenya except to the local's staple food based on 'ye beqolo genfo' known as 'ugaali' that, like injera, was eaten with different types of sauces. But, most Ethiopians have hard times trying to get used to 'ugaali' & its distinctive smell that is off-putting to many.

I think, if all fails, the magical stuff called injera would keep Ethiopia together.


Take care/nagaatti.
photo1

: dirqosh injera is exported to feed some diaspora die-hard injera-lovers ...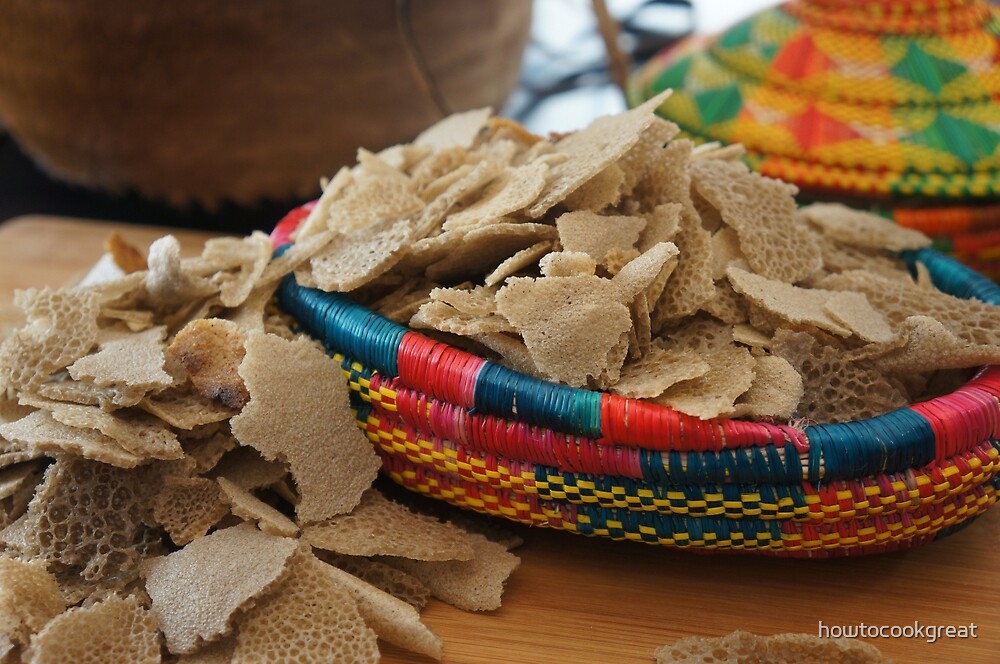 photo2

: mbuzi choma - 'ye Kenya tibs be beqolo genfo' ... (the round white stuff) ..
---