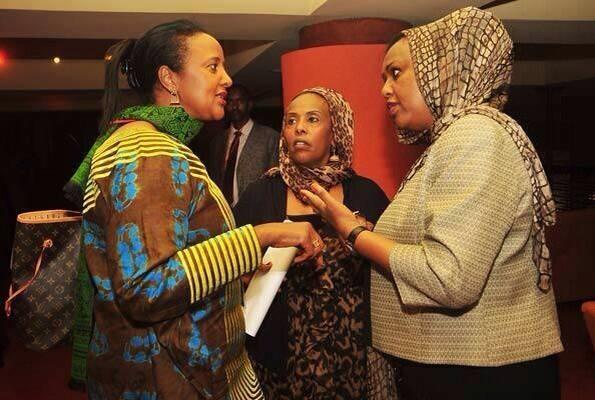 Right:
Amina Mohamed, the Foreign Minister of Kenya, lawyer, diplomat and business woman. She is the former Chairman of the International Organization for Migration and the World Trade Organisation's General Council, as well as Assistant Secretary-General and Deputy Executive Director of the United Nations Environment Programme.
Middle/background:
Amina Moghe Hersi, Somali business tycoon in Uganda worth millions, she is currently developing $25m mall (luxury Oasis centre) in Kampala, the single biggest project in Kampala in recent times. She also owns
Kingstone Enterprises Limited
, one of the largest distributors of cement in the region and other hardware materials in Kampala.
Left:
Fowzia Yusuf Haji Aden, Somalia's Foreign Minister and business woman. She is the founder of University of Hargeisa and several other institutions.
All three women are from Somaliland originally.
The three recently met in Kampala. The Somalis are set to dominate this entire region. All this picture needed was the obese President of Djibouti (who is half Somali half Oromo since Issa are Somalinized Oromo) and Ethiopia's Finance Minister (a Somali).