First there was a map that was made by Awate.com. The creators said "let's put Badme in Eritrea, since the news said that woyane attacked Eritrea in Badme." They checked if it was O.K. to do so with their TPLF handler, who had also brought the request for them to plant the false story (which they had earlier had exposed as such with another article). They were told to proceed with their plans.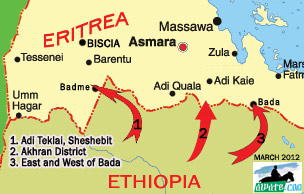 Then the Woyanes saw what Awate.com had done. They felt out done. They decided to copy and modify the Awate map. They are telling the same lie with a modified map (in which they made it larger and moved Badme to Tigray forgetting, again, that the TPLF attack on Eritrea was in Badme). They didn't see any problem with their action, as it's common practice among woyanes.
One more thing they all forgot is this denial of the attack report by Woyane!
By William Davison - Mar 17, 2012

Ethiopia's government denied a Reuters report that it made further attacks inside Eritrea.

"That's not correct," Getachew Reda, the Foreign Ministry's public diplomacy and communications director, said by phone from Ethiopia's capital, Addis Ababa, today. "There's been no further attacks" after a raid two days ago inside Eritrea's territory, he said.

Ethiopian troops today carried out more attacks on rebels in the north of Eritrea around Badme, Reuters said, citing an unidentified Ethiopian government official.

Three military posts where the Eritrean government trained rebels hostile to Ethiopia were targeted on March 15, State Minister of Communications Shimeles Kemal said.

http://www.bloomberg.com/news/2012-03-1 ... itrea.html
"The information is false," he said by phone today about the Reuters report. "It's an absolute lie."